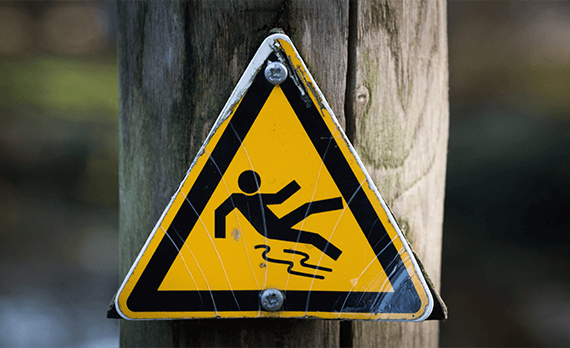 Generally, a private home or place of business is thought to be a safe space. Any visitor, whether it be a guest or someone brought on to perform a service (such as a repair person or housekeeper for example), usually has their guard down as these places do not immediately alert us to dangerous conditions. However, no matter how comfortable or familiar the environment is, accidents can and do happen.If a person suffers an accident on private property, the cause of the accident could be grounds for a premises liability lawsuit.
Typically a case can be brought if it can be proven the owner has created an unsafe environment, including where the owner does not keeping the property well maintained, including not cleaning up water leaks or spills, keeping sidewalks and walkways in good condition, disposing of trash, and repairing roofs or structural elements that are rotting or damaged. Furthermore, an unsafe place can be created when a property owner or operator is negligent and fails to add necessary safety features. For example, an owner might not have proper railings on stairs, a fence around a pool, smoke detectors, or may leave hazardous cleaning supplies or other dangerous items where they are easily accessible to visitors. The carelessness of the owner in any of these scenarios or others could lead to a variety of injuries, including everything from broken bones, burns, flesh wounds, internal bleeding, head injuries, and in some serious cases, death. Depending on how serious the accident is, the victim may only suffer minor injuries, but he or she could also become permanently disabled. Not only might the person be physically hurt, but they could also suffer financial hardship from missing work and paying for medical treatment and therapy to treat the injury. They may also suffer mental anguish for their lost quality of life.
Matthews & Forester has extensive experience navigating premises liability cases. We know how to not only examine the circumstances to bring the strongest possible case against the liable party, but we also make sure to get to know our clients. We want to understand how our client's injury has impacted them and their family, and make sure we take every step possible to get them the payout they deserve. We work with our clients to deal with insurance companies and property owners throughout the case, allowing our clients to focus on their health and recovery.
If you or a family member have been injured at a private home or place of business, contact Matthews & Forester at (281) 535-3000 to discuss your situation and see if you might have a premises liability case.