Auto Pedestrian Accidents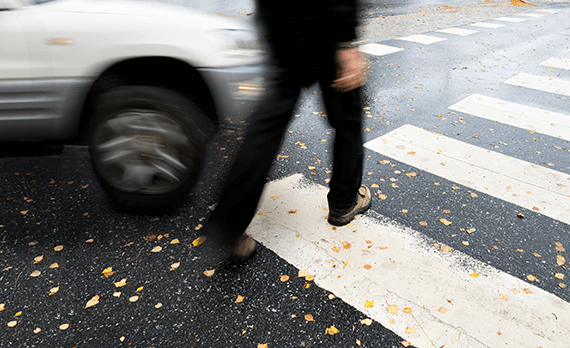 When a pedestrian is struck by a car, very rarely does the pedestrian walk away unscathed. Automobiles, even when driving at low speed, have much greater mass than any person and thus can cause serious injuries in a collision. Auto pedestrian accidents are so dangerous, in fact, chances are good that any person hit by a car will be greatly hurt, if not killed.
Broken bones, internal bleeding, organ damage, spinal damage, and head injuries are just some of the injuries caused when a car strikes a pedestrian. Any injuries sustained can lead to future problems. The pedestrian might become permanently disabled and unable to continue in their current profession and/or take another job. They may require ongoing and expensive medical care and daily assistance, not to mention physical and mental therapy.
No matter the severity, it is important to examine the accident and understand what happened and who ultimately should be held accountable. Very rarely are pedestrians at fault for a collision with a motor vehicle. Most likely, it is the result of the driver of the vehicle driving unsafely and not paying proper attention to their surroundings. Speeding, using a phone while driving, or driving drunk are just a few common occurrences that can cause a pedestrian accident. Additionally, pedestrians can often be hurt when a car is backing up, as the driver may not have checked behind them before going into reverse. It is important to look and see if another party, such as the car manufacturer, owner of the property where the accident happened, or city or state of the road where it occurred can be fully or partially blamed.
Matthews & Forester understands how traumatic it can be for the victim and their family when coping with the aftermath of auto pedestrian accidents. We try to offer thoughtful guidance and tested solutions to bring justice to our clients. We know to examine every angle and gather all evidence and testimony to help bring the strongest possible case against whoever should be held accountable. We want our clients to worry about getting better from their injuries and not struggle to navigate legal proceedings and insurance company claims on their own.
If you or a loved one has been hit and injured by a car, call Matthews & Forester at (281) 535-3000 to discuss your case. We are here to help you get the payout you deserve to help recover.